APPLICATIONS FOR OUR 2024 COMPETITION WILL BE AVAILABLE IN THE FALL 2023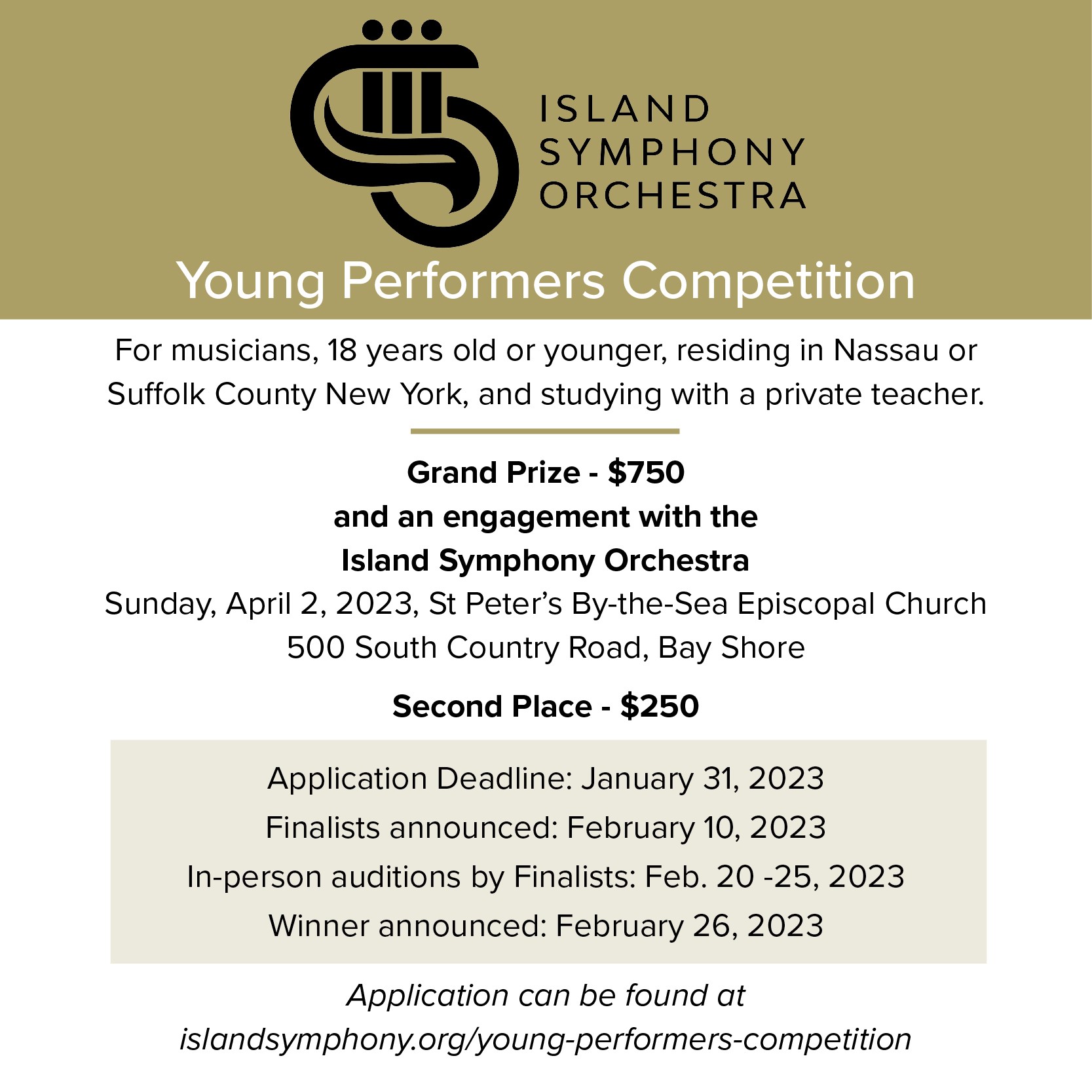 Island Symphony Orchestra
About Our Young Performers Competition
The Island Symphony Orchestra's Young Performers Competition is an opportunity for music students across Long Island to vie for the opportunity to win a scholarship award and perform a full classical concerto as a soloist with the orchestra.
This competition provides young musicians with much needed experience that prepares them for the challenges of a future career in music.  Since this program began, the ISO has granted more than 25 performance opportunities to our First and Second Prize winners.
2021 Winner
Spencer Rubin
Spencer Rubin is a student at The Juilliard School Pre-College Division where he studies with Elaine Douvas and Yousun Chung. Spencer was a 2020 National YoungArts Foundation Finalist and he will be featured on National Public Radio's "From the Top" program in early 2021. Spencer will perform as a soloist with the New York Chamber Players Orchestra and the Queensboro Symphony Orchestra during their 2021-2022 seasons. He has earned other numerous first place and grand prize awards in international competitions including the New York Young Virtuoso Competition (where he also won the Young Virtuoso Prize), ENKOR International Music Competition, Vivo International Competition, Rondo Young Artist (Vanguard) Competition, American Fine Arts Festival, National Young Maestro Competition (where he also won the best overall performance award), American Association for Development of the Gifted and Talented International Young Gifted Musicians Festival, Prima Volta Music Competition and Grand Prize Virtuoso International Competition. As a chamber musician, Spencer was a grand prize winner of the National League of Performing Arts Competition and a winner of both the Chamber Music Society of Lincoln Center Young Musicians Program and Young Ensembles Program. Spencer is an alumnus of the Aspen Music Festival (where he was the youngest oboist ever to attend), Hidden Valley Music Festival, Juilliard Summer Winds Festival, Boston University Tanglewood Institute Young Artists Orchestra and the Interlochen Arts Camp. He was also invited to join the National Youth Orchestra of the United States (NYO). Spencer has participated in numerous masterclasses including winning a competition to perform in a MET Orchestra Musicians Masterclass.
2nd Prize
Flute, Roslyn Heights
Carolyn Lau is a sophomore at Herricks High School and currently studies flute with Judith Mendenhall. She has performed as a soloist with the Metropolitan Youth Orchestra of New York (MYO) as winner of their Concerto Competition. Carolyn is also a 2021 National YoungArts Winner in Classical Music. Other awards she has won include 1st Prize Winner of the Great Composers Winds and Percussion Competition and winner of the Tilles Scholar Award. Carolyn has served as co-principal flute of the Manhattan School of Music Pre-College Philharmonic Orchestra and principal flute of the MYO Principal Orchestra. She was accepted into the 2020 BU Tanglewood Institute Young Artists Orchestra Program. Other festivals she has attended include the ARIA International Summer Academy, the Kinhaven Music School Junior and Senior Sessions, and the Oyster Bay Music Festival. She has also studied flute with Zara Lawler, Lauren Ausubel, and Susan Deaver. Outside of music, Carolyn enjoys creative writing and playing volleyball for her club and school team.
Young Performers
Competition Rules and Guidelines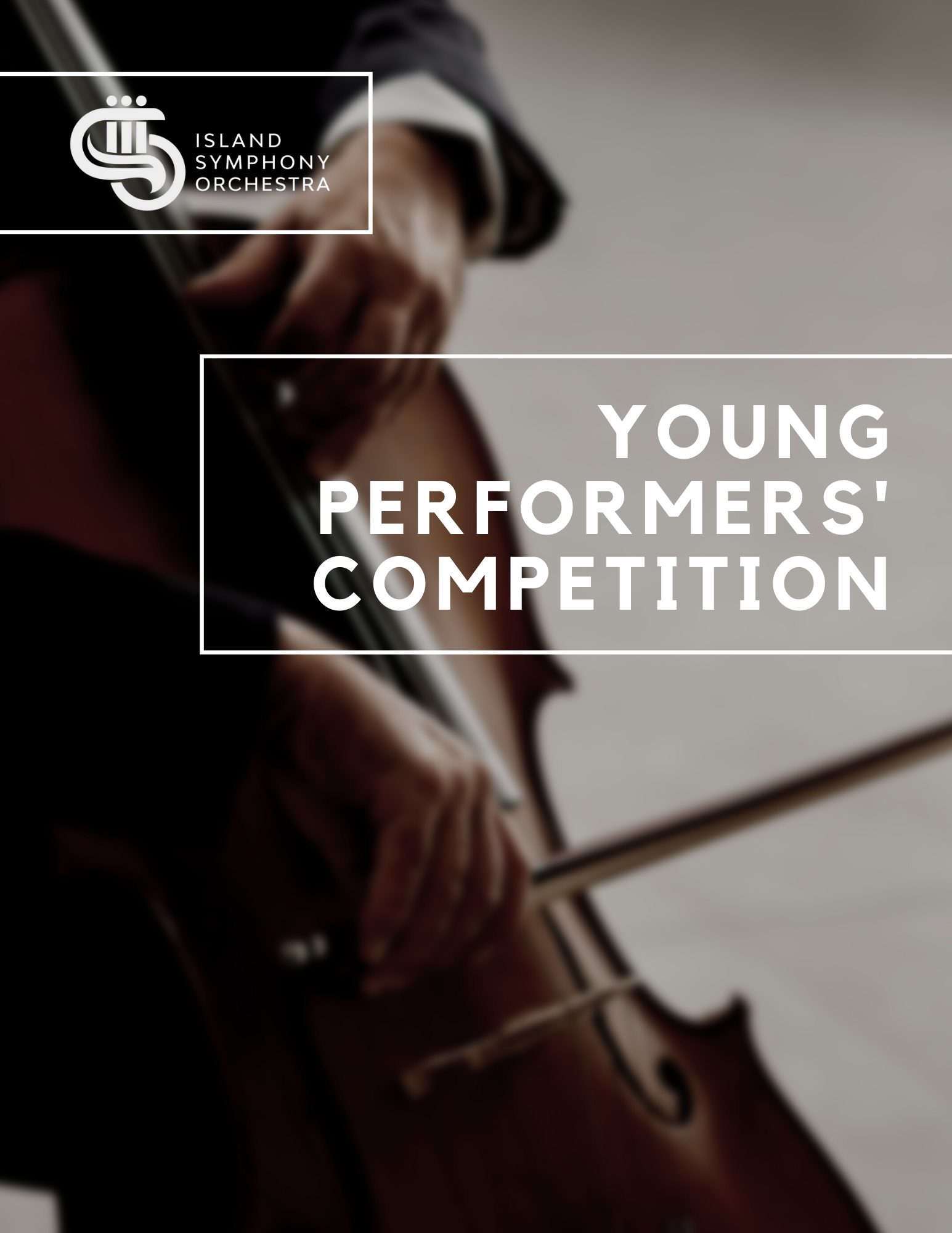 This competition is open to all musicians, 18 years old or younger, currently residing in Nassau or Suffolk County New York, and studying with a private teacher.
All audition materials are submitted electronically.
Entrants are eligible to participate on musical instruments including, but not limited to: flute, piccolo, oboe, english horn, clarinet, bassoon, french horn, trumpet, trombone, tuba, percussion, piano, guitar, violin, viola, cello, bass, and voice.
Participants may submit a video performance of a concerto, sonata, or solo unaccompanied work. There are no length requirements for your piece. Judges reserve the right to determine what is an appropriate piece for the competition. Generally speaking, your selection should appear as a Level 6 in the current NYSSMA Manual or ABRSM Grade 8 or higher.
Please contact us with any questions regarding the appropriateness of your selections: competition@islandsymphony.org
In addition to your performance, a hard copy submission of a confidential Letter of Recommendation is required of all entrants.
The competition will have one winner. Select musicians may also receive Honorable Mention awards.
All of the Young Performers' Competition committee's deliberations are confidential, and all decisions are final.
Previous First Prize winners of the Young Performers' Competition are not eligible to enter.
For more information, please send all inquiries, including questions related to the Young Performers' Competition, to: competition@islandsymphony.org
Thank You
Our sincerest thanks to Peter Horvath for his many years of underwriting scholarships to our competition winners.