Island Symphony Orchestra
About Our Young Performers Competition
Each year the ISO sponsors a "Young Performers Competition" in which music students across Long Island vie for the opportunity for a scholarship award and to perform a full classical concerto as a soloist with the orchestra.
This competition provides young musicians with much needed experience that prepares them for the challenges of a future career in music.  Since this program began, the ISO has granted more than 25 performance opportunities to our First and Second Prize winners.
The competition is now closed to applications.  Applications will again be accepted in September 2020 (See submission button below).  Finalists are selected and auditions are conducted in January/February of the following year, with a winner selected shortly thereafter.  The performance opportunity for the winner will generally occur in May or June at the ISO's annual spring community concert.
2020 Winner
Dylan Shih Wu
Dylan Shih Wu is a 15 year old who began his cello studies at age three. At age 9, he was admitted to the Pre-College Division of the Juilliard School in New York City.
In December 2015 at age 11, Dylan was awarded the Silver Medal and Laureate in the Cello Section at the 9th International Tchaikovsky Competition for Young Musicians in Novosibirsk, Russia. In May 2017 he was invited back to Moscow to perform in the first Tchaikovsky Spring Festival by the Association of Tchaikovsky Competition Stars.
Dylan's accomplishments include placing first in various competitions, including the Juilliard Pre-College String Ensemble Cello Competition, the Golden Key Music Competition, the Rising Stars Grandprix in Berlin, the American Protégé International Piano and Strings Competition, and the YWCA of Queens NY Music Competition. In 2015 he was chosen as the grand prize winner of the American Fine Arts Festival International Concerto Competition and the International Virtuoso Competition.
At age 10, Dylan debuted as a soloist with his first orchestra – the Adelphi Chamber Orchestra playing Saint-Saën's Cello Concerto No.1. Since then, he has been featured as a soloist with several orchestras in the United States, Russia, and Taiwan.
In June of 2015, Dylan was invited to perform on NPR's "From the Top" radio program, hosted by Christopher O'Riley. In October, he was invited again to record a music video with trio Time for Three and has been featured in their Gala Performance in Boston. In July of 2017 he was invited to shoot a cover of Beatles song "Here Comes the Sun" with critically acclaimed Joshua Bell and From the Top.
Dylan is a student of Minhye Clara Kim at the Juilliard School's Pre-College Division. During his free time he enjoys playing for seniors through Concerts in Motion, and recently was featured in their annual Gala concert at Merkin Concert Hall. He is also a co-founder of a cello quartet Ponticelli which raises money for non-profit organizations and various causes.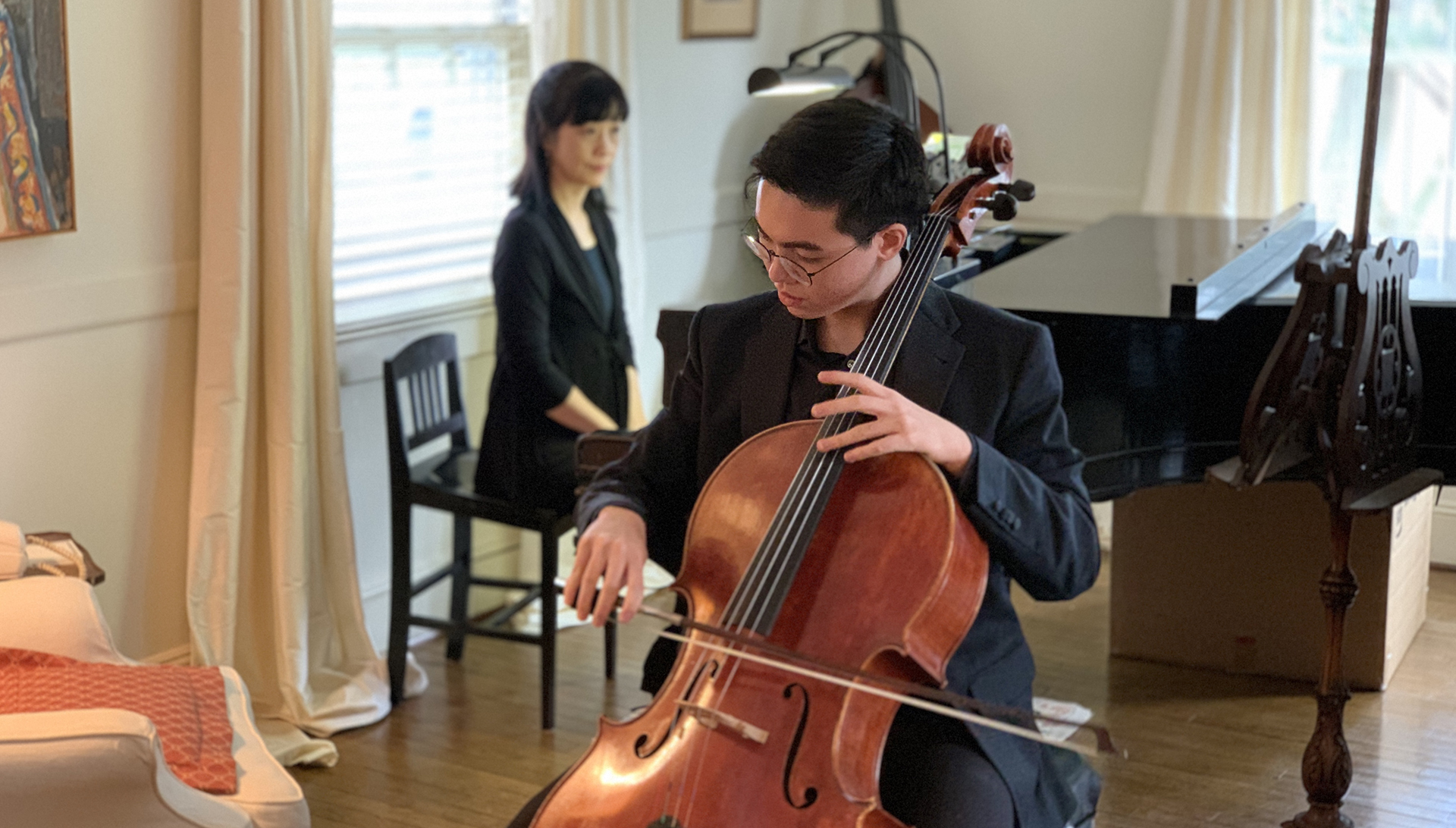 2nd Prize
15-year-old pianist from Woodbury
Honorable Mention
15-year-old cellist from Amityville
Young Performers
Competition Rules and Guidelines
The ISO Young Performers Competition is open to all instrumentalists, 18 years old or younger, currently residing in Nassau or Suffolk Counties and studying with a private teacher.
To apply, the following application materials must be submitted to us electronically.  CLICK ON THE SUBMISSION LINK ABOVE TO BEGIN THE APPLICATION PROCESS:
1. A completed ONLINE application form (available once you click the link to submit your application above).  You will be asked for your name, age, address, email address, phone number, the title of the work you would like to perform in concert with us, any alternative works you might be ready to play, should your first choice not be appropriate to our needs, and a short biography of your musical training and background.
2. An audio recording of you, performing an entire movement from the work you wish to play,
with accompaniment.  This submission (in mp3 file format) must be attached to your online application.
All works must be for soloist and orchestra.
Works for solo instrument alone or soloist and piano are not acceptable.
EXCERPTS or SINGLE MOVEMENTS from multi-movement works ARE NOT acceptable.
Video submissions are not acceptable.
(Please contact us if you encounter technical difficulties in submitting your audio file online.)
3. A confidential letter of recommendation from your current private music teacher (Hard copy only–this letter should be sent within 2 weeks of submitting your online application materials).
Mail To:
Island Symphony Orchestra
Young Performers' Competition
P.O. Box 2185
Brentwood, NY 11717
Deadline:  To be announced
All winners are expected to play a complete work at a Spring concert scheduled with the ISO.
This year, Finalists will be selected by a committee of orchestra members and contacted in late 2019/early 2020.
Live auditions will be scheduled in January 2020, and the winners announced by February 2020.
Cash scholarship awards will be presented at the June public concert performance only.
All submissions become the property of the ISO and will not be returned.
Previous First Prize winners are ineligible to reapply.
ANY QUESTIONS:
Please contact us at competition@IslandSymphony.org
Thank You
Our continued thanks to Mr. Peter Horvath for generously underwriting the scholarships awarded to our competition winners.