Artists for Artists provides an opportunity for amateur musicians to engage with professionals, both as audience members and as lifelong learners.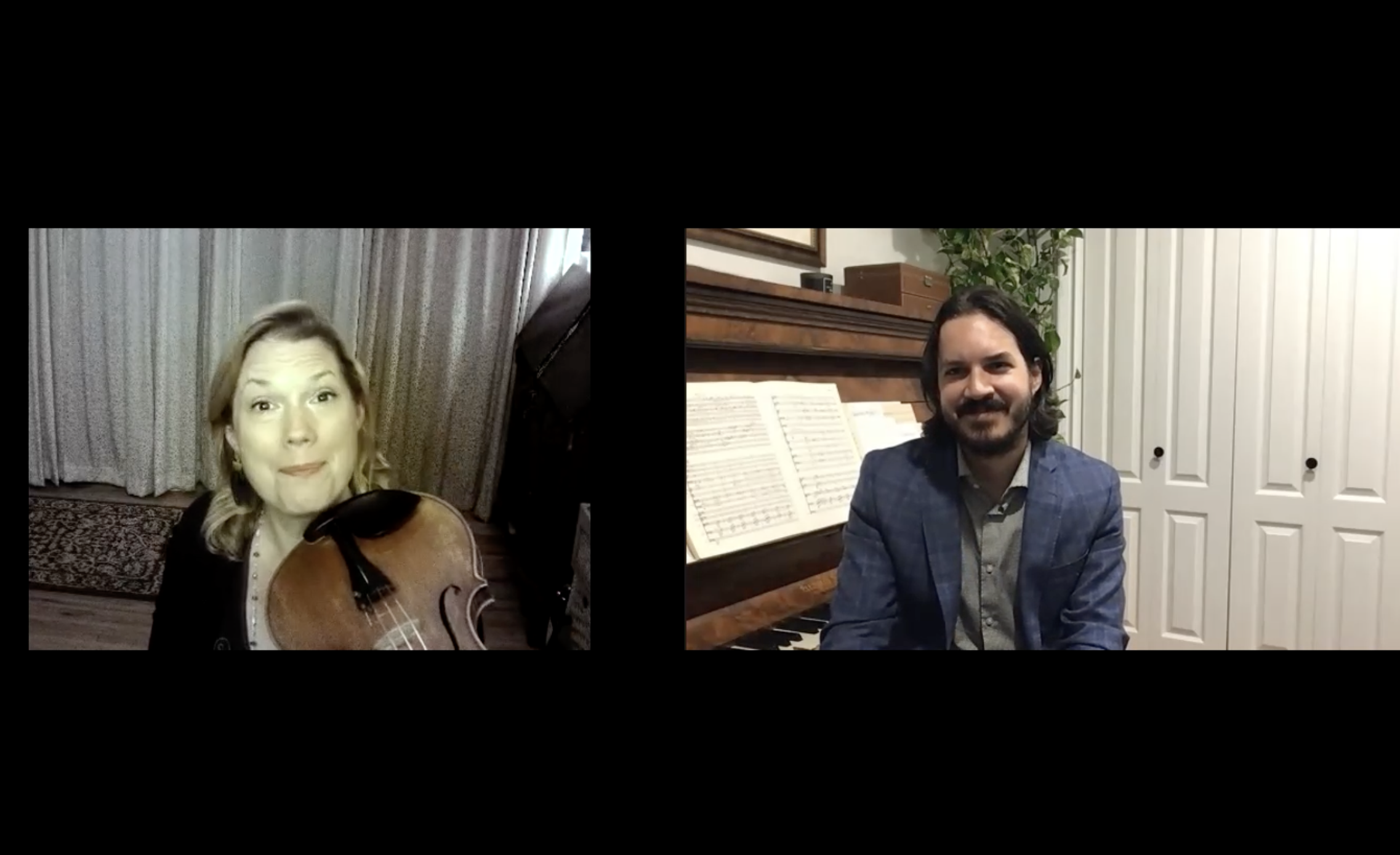 Join conductor Eric Stewart as he interviews world-class musicians and talks about life, learning, and their experiences as a musician.
Recorded live via Zoom, each episode pulls back the curtain to allow viewers to learn more about music-making from the perspective of a professional musician. As diverse as the instruments they play, their experiences can also be quite different.
Learn about everything from practicing, to life as a musician in a pandemic. Discover causes, new groups, and new techniques that they explore that expand their world as a musician, and may show you a new perspective on music that you may have never considered.
You'll also get to check out some exclusive performances by each guest!
Watch the Complete Artists for Artists Series
Series Two, Episode Three
Jessica Meyer
With playing that is "fierce and lyrical" and works that are "other-worldly" (The Strad) and "evocative" (New York Times), Jessica Meyer is a GRAMMY® – nominated violist and composer whose passionate musicianship radiates accessibility and emotional clarity. Her first composer/performer portrait album recently debuted at #1 on the Billboard traditional classical chart, where "knife-edge anticipation opens on to unexpected, often ecstatic musical realms, always with a personal touch and imaginatively written for the instruments" (Gramophone Magazine).
Series Two, Episode Two
Elizabeth Koch Tiscione
Elizabeth joined the Atlanta Symphony Orchestra (ASO) at the beginning of the 2007-2008 season. She currently holds the George M. and Corrie Hoyt Brown Chair. In addition to her responsibilities with the ASO, Tiscione plays Principal Oboe at the Grand Teton Music Festival and is a member of the Atlanta Chamber Players. She has performed as a guest musician with the orchestras of Philadelphia, St. Louis, St. Paul, Baltimore, Rochester, Buffalo, and the Orpheus Chamber Orchestra. Recent solo engagements include the World Youth Symphony Orchestra, Orpheus Chamber Orchestra, Atlanta Symphony, and Dekalb Symphony Orchestra. She has been featured on NPR's "From the Top," and has also performed at many chamber music festivals throughout the country, including Tannery Pond, Cape Cod, and the Chamber Music Society of Lincoln Center.
Series Two, Episode One
Leelanee Sterrett
Leelanee joined the New York Philharmonic in June 2013, where she currently serves as Acting Associate Principal Horn. She was previously a member of the New Haven Symphony Orchestra, and a regular substitute with the New York Philharmonic. Ms. Sterrett is also an alumna of The Academy, Carnegie Hall's collective of young professionals and music advocates, and a former member of Ensemble ACJW.
Series One, Episode Four
Wolfram Koessel
Since his Carnegie Hall debut in 1994, Koessel has performed as a chamber musician, recitalist, and soloist throughout the world. The Strad magazine praised his "exceptionally attractive cello playing." As a soloist, he has performed concertos throughout the United States as well as with Japan's Osaka Symphony Orchestra and orchestras in Germany and South America.
Series One, Episode Three
Burt Mason
Burt Mason performs regularly with the Metropolitan Opera Orchestra, serves on faculty at the Juilliard School's Music Advancement Program and is Principal Trombone of the Chamber Orchestra of New York. He has appeared as guest artist with the NY Philharmonic, the Metropolitan Opera Brass, the Utah Symphony and as soloist with numerous ensembles, performing worldwide. Mr. Mason made his Carnegie Hall solo debut in March 2018 performing Albrechtsberger's Concerto for Alto Trombone in Weill Recital hall with the Chamber Orchestra of New York. He has also appeared as soloist with numerous ensembles, performing throughout North America, the United Kingdom, Europe and Australia.
Series One, Episode Two
Mindy Kaufman
Mindy Kaufman, The Edward and Priscilla Pilcher Chair, joined the New York Philharmonic as flute and solo piccolo in 1979 at the age of 22, after performing for three seasons with the Rochester Philharmonic Orchestra. She received a bachelor of music degree from the Eastman School of Music, where she studied with Walfrid Kujala, Bonita Boyd, and James Galway.
Series One, Episode One
Rachell Ellen Wong
Recipient of a prestigious 2020 Avery Fisher Career Grant – the only baroque artist in the respected program's history – and Grand Prize winner of the inaugural Lillian and Maurice Barbash J.S. Bach Competition, violinist Rachell Ellen Wong is a rising star on both the historical performance and modern violin stages. Her growing reputation as one of the top historical performers of her generation has resulted in appearances with renowned early music ensembles such as the American Bach Soloists and The Academy of Ancient Music, and tours with Bach Collegium Japan, Les Arts Florissants, among others. Equally accomplished on the modern violin, Ms. Wong made her first public appearance with the Philharmonia Northwest at age 11 and has since performed as a soloist with such orchestras as Orquesta Sinfónica Nacional de Panamá and the Seattle Symphony.

This program is made possible with funds from the Decentralization Program, a regrant program of the New York State Council on the Arts with the support of Governor Kathy Hochul and the New York State Legislature and is administered by The Huntington Arts Council, Inc.